Now that fall is here and your family is spending more time indoors, it's time to pay even more attention to home electrical safety. For the sake of your home and family, we urge you observe the following safety tips: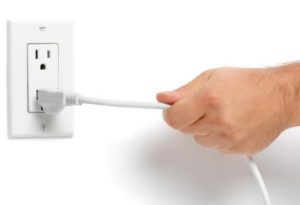 Pull the plug, not the cord, when disconnecting an electrical device.
Never remove a plug when your hands are wet, or if you're touching a metal object.
The third prong of a plug exists for safety reasons. Do not break it off or bypass it.
Keep cords away from sources of heat and water.
Replace cords and plugs that show signs of wear or damage.
Do not place a cord under a carpet, through a doorway, or anywhere it could be stepped on.
Always use extension cords that are properly rated for the amount of electricity you'll be using.
Use proper extension cords outside. They should be specifically marked for outdoor use. Improper use could result in a fire or shock hazard.
Only use certified extension cords listed by a recognized certification organization such as Underwriters Laboratories ("UL listed").
Install socket guards in all outlets not in use. This helps avoid injury to small children.
For even greater safety, please keep in mind that extension cords are meant for temporary use only. So, if you could benefit from additional outlets in your home – including GFCI outlets in your kitchen, bathrooms, or outdoors – contact Excel Electric today to request service. We are licensed and insured for your added protection, plus we guarantee your satisfaction with the service we provide.