Fluorescent and compact fluorescent light bulbs contain small amounts of mercury, but enough to cause mercury poisoning. Mercury, as you may know, has been directly linked to autism, neurological damage, and numerous other health problems.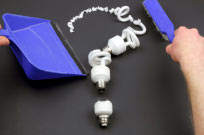 That's why Excel Electric urges you to properly recycle all used or broken light bulbs.  Here's how:
Should you break a bulb, put on disposable rubber or plastic gloves, carefully scoop up the glass shards and as much powder as possible with one or two pieces of stiff paper or cardboard.
Place the glass shards, powder and clean-up material in a sealable plastic bag.
Place that bag inside another and store it in a safe location until you can take it to your local recycling or hazardous material drop-off center. Click here to find the fluorescent light bulb recycling center nearest you, as listed on the State of Illinois EPA website.
Vacuum the area and vent the room once you've removed and disposed of the glass shards and powder.  Place the vacuum cleaner bag in a double-sealed plastic bag and dispose of it with the normal trash.
When a break happens on carpeting, you may consider removing throw rugs or the area of carpet where the breakage occurred as a precaution, particularly if the rug is in an area frequented by infants, small children or pregnant women. If the carpet is not removed, open the window to the room during the next several times you vacuum the area to provide good ventilation.