Commercial Electricians | Commercial Electrical Services
Excel Electrical Technologies offers the "whole package" of electrical services for small to medium businesses and institutions of virtually every type.
For starters, we're all the things you expect:
Licensed
Broadly experienced
Engaged in ongoing training to hone our skills while developing new ones
As versatile as your needs might require
On-time service is as important to us as it is to you. So is electrical safety for everyone concerned.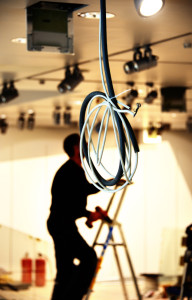 Here are just some of the commercial electrical services we offer to help boost your productivity, working conditions, and safety for everyone concerned:
100, 200, 400, 600 and 800 AMP Circuit Breaker Panels
3-Phase Wiring 208, 240, and 480-volt
Cat 3, 5e, 6 Ethernet Cable Runs
General Purpose Interior Lighting
Installation of Power for Computer Equipment and Machinery
Installation of Wall Mounted F81 Jacks for Cable T.V., RJ45 Keystone Jacks for Ethernet Cable
Lighting

Accent Lighting
Lighting Controls and Automation
Outdoor Lighting
Security Lighting

Power Poles for Electric/ Data
Quad Receptacles
RG59/RG6 Coaxial Cable Runs
Service Upgrades and Metering Equipment
Surge Protection (Surge Suppressors)
Tenant Improvements
UPS Systems
Wiring for food Service and Refrigeration Equipment
Wall Fishing for High and Low Voltage Lines
For more information on our commercial electrical services, or a no-obligation quote on an upcoming project, contact Excel Electrical Technologies today!