Indoor Lighting Installation | Home Lighting Installation
If you want indoor lighting that makes a statement, and not just to light up a dark space, Excel Electrical Technologies can help you design and achieve exactly the mood or effect you hope to achieve.
Lighting can illuminate and decorate at the same time…it definitely doesn't have to be one or the other. Here are a few examples of the specialty lighting we install in great Chicagoland homes like yours.
Task Lighting
Task lighting is used in specific areas to help make everyday chores easier on the eyes. You see task lighting all the time in kitchens, where lights are placed underneath cabinets to help facilitate greater ease of food preparation and more. A task lighting scheme also can be designed and installed in your home office or workout area to help ease eye strain and make your time more productively spent.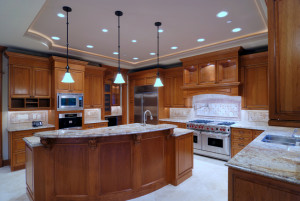 Track Lighting
If you have a harsh hallway light, for example, that helps you find what you want in your linen closet, but accomplishes nothing more, it's time to consider replacing it with track lighting. Tracks themselves are attached to a wall or ceiling, with each one capable of holding up to several lights. Often times, the bulbs are contained inside a move-able cone or globe that can swivel and be pointed at whatever you're trying to illuminate, including your closet, a thermostat, wall art, and more.
Recessed Lighting
One of the truly hot trends in kitchen makeovers is replacing hanging lamps and chandeliers for multiple recessed lights. First of all, they're flush with the ceiling and, as such, can make a room look and feel bigger. Most recessed lighting fixtures now come equipped with LED lights that virtually will never need to be replaced.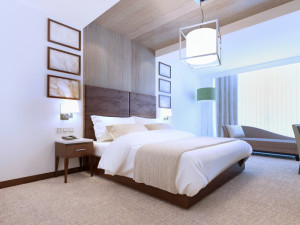 Accent Lighting
Accent lighting comes in many different forms, but its purpose is always the same: to cast light on some particular point of interest, like a treasured painting, an antique vase, an aquarium, or anything else you hold near and dear to your heart.
Wall Sconces
Nothing new about these, but they're still used to add a touch of elegance to a dining room or other common room or area in your home. You can even use wall sconces in your bedroom as reading lamps where their primary purpose suddenly becomes, of all things, illumination…
…which brings us right back to where we started. As in, if you have an area of your house that you would like to dress up with interior lighting that both sheds more light on the subject while helping you make just the right decorating statement, contact Excel Electrical Technologies today. We can even give you some useful ideas of our own along with a free quote for putting your lighting scheme into effect.