Outdoor Landscape Lighting | Home Security Lighting
As home owners, we tend to spend our home improvement dollars where they do the most good so we can more fully enjoy the end result.
And there's nothing wrong with that – in fact, it makes perfect sense. But it also tends to cause many home owners to ignore the exterior of their homes other than landscaping wise. That's why at night, many Chicagoland homes look…well, just dark.
But now you can change all that by undertaking one or more exterior lighting projects. All at once, you can add a great deal of beauty to your home after the sun sets while helping to keep burglars and other intruders at bay. Talk about getting double the value for your money!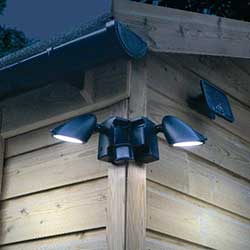 Motion Sensitive Lights
These turn on only when human beings come within range. You typically find them on or next to a garage or mounted to the back of a home. They're very effective at helping guide you to your front door once you return from an evening out. They're equally effective at alerting burglars that their presence is no longer a secret. Here's more good news: motion sensitive lights are not triggered by animals, so you don't have to worry about the lights going on and off all night as kittens and other nocturnal critters roam the neighborhood. By the way, motion sensitive lights can be installed indoors, too, like on a staircase to help prevent you from falling.
Spotlights
Unlike motion sensitive lights, spotlights stay on for as long as you want them on. They provide you with an easy means to keep an eye on things outdoors. They also allow you to enjoy more time outdoors with friends and neighbors on your deck, patio, or in the pool.
Lighted Address Numbers
Outdoor mounted, lighted home address numbers make it easy for others to find your house at night, especially in case of emergency.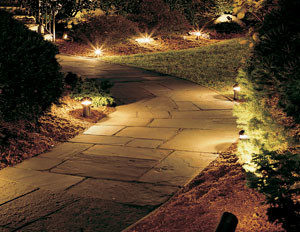 Keyhole Lights
Keyhole lights make it easier for you to find your keys and gain access to your home. And that's another security plus, as the faster you gain entry, the less chance there is something going awry.
Footpath Lighting
When you come right down to it, any type of outdoor lighting both illuminates and provides greater security, because the more visible someone is, the more likely they can be seen by others. And one thing the bad guys don't like is being seen by others.
With low voltage footpath lighting, you can light the entire way from your front sidewalk to your front door, or use it to help accent a flower or shrubbery bed or to frame your patio.
LED Tree & Shrubbery Lights
Christmas isn't the only time of year appropriate to lighting up outdoor greenery. Now, you create an LED lighting scheme anywhere on your property for added beauty and visibility all year long. Other advantages of LED lighting include the following:
Long lifespan
Low energy consumption
Able to withstand harsh conditions
Emit no heat
Contain no toxic chemicals
LED lights are also dimable, provide instant illumination, and help facilitate any kind of visual lighting statement you might like to make.
Contact us today for a free on-site consultation on how to make outdoor and security lighting work best for you, with expert design and installation services provided by yours truly: Excel Electrical Technologies.