Swimming Pool Wiring | Hot Tub Wiring
Whether you're purchasing a new pool or hot tub or looking to make improvements to the one you already have, count on Excel Electrical Technologies for the expert wiring services that are so critical to your safe and more complete leisure time fun.
When's a good time to call us?  Well, definitely if you've just moved into a home with an existing pool or hot tub. After all, would you let a loved one or child enter without being 100% sure that it was safe to do so? Neither would we. And we're happy to give you that absolute level of peace of mind.
For new installations and routine safety inspections alike, we'll make sure your pump, filters, heaters and lighting are wired correctly and efficiently. We'll also make sure that all outdoor outlets are GFCI outlets and that all other electrical code items are in full compliance.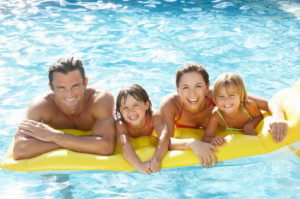 If you're planning to add a pool or hot tub to your property, it's a good idea to call us well in advance of your planned installation. That way we can determine if the added power demands warrant an upgrade in your home electrical system or the addition of a sub panel.
During the installation process, we'll also make sure that all pool or hot tub lights are properly grounded and take care of all other connection, performance, and safety matters.
In short, Excel Electrical Technologies is your complete resource for pool and hot tub electrical services, including the following:
Contact us today for the added peace of mind we know you want.