US homes aren't the tinder boxes they once are, and yet there are still more than 1,000 house fires every year, many if not most of them preventable.
What can you do to better protect your home and family? Here are five fire prevention tips every home owner should be aware of: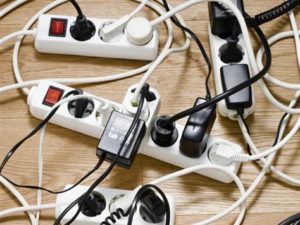 Don't use light bulbs with higher wattage than the fixture or lamp was made for. Check each fixture or lamp before replacing a bulb, especially if you can no longer discern the wattage on the burned-out bulb. Using a higher wattage bulb creates more heat than the fixture or lamp was made to resist and can trigger an electrical fire.
Limit your use of extension cords. Extension cords were never meant to be permanent home fixtures, just temporary solutions. So if you find yourself over-relying on extension cords, chances are you need more electrical outlets. By doing so, you'll eliminate another potential cause of electrical fire.
Be careful where you store batteries. Wherever you keep your surplus batteries, just be sure they can't come in contact with other metal objects. Otherwise, enough heat can be generated to spark a fire. The best place to keep your batteries is in the refrigerator to help maintain their freshness. 
Keep a fire extinguisher in or near your kitchen. No matter how careful you might be, there's still a chance of a range fire. To get it under control as quickly as possible and help minimize any resulting damage, keep a fire extinguisher within easy reach. Also, keep in mind that they're not refillable so, if yours has been used before, it needs to be replaced.
Dust and electricity don't mix. Dust can become overheated when coming in contact with electricity, so be sure to keep your switches, plugs, and outlets dust free. Otherwise you have yet another risk of a home fire on your hands. 
Just how secure is your home against the risk of an electrical fire? If you'd like to know to a high degree of certainty, contact Excel Electric today to request our home electrical safety inspection. Looking for and suggesting ways to correct for potential fire hazards is high on our list of priorities, and so keeping your family free from electric shock.