The best things in life can't be bought – but sometimes they can be given a helping hand.  If your goal is to reduce stress, ease aches and pains, and overall lead a healthier lifestyle, a good soak in a hot tub can help achieve all that and more. Hydrotherapy – the use of water to relieve discomfort and promote well-being – has been used for centuries and was first introduced in the U.S. in the1840s. Since then, hydrotherapy has evolved in various ways and encompasses many different forms, but one of the easiest ways to practice it is in a hot tub right in your very own home.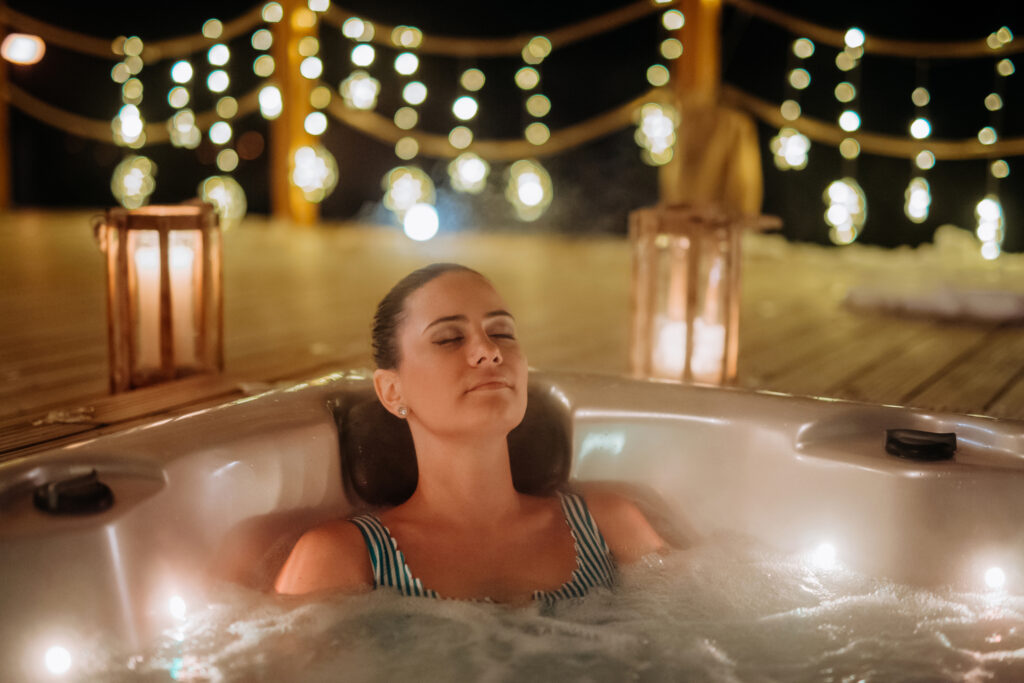 Let's take a look at just some of the amazing health benefits of regularly soaking in a hot tub.
EASES STRESS
Stress can take a major toll on the body and mind. From headaches and fatigue to digestive issues and muscle tension, stress can make it difficult to get through the day and sleep well at night. One of the top benefits of a hot tub is that the warm water coupled with jet massage helps to relax the body while increasing endorphin production which floods the body with a sense of well-being.
RELIEVES SORE MUSCLES
One of the best remedies for sore, achy muscles is moist heat. Pair it with a massage and you are well on your way to feeling better in no time. Regular hot tub usage has been found to ease muscle stiffness and spasms, resulting in less pain overall.
EASES SYMPTOMS OF CHRONIC PAIN
Studies have shown that those suffering from arthritis, sciatica, fibromyalgia, and other types of chronic conditions can greatly benefit from a daily soak in a hot tub. The warmth of the water and jet massage work together to ease tension while stimulating blood circulation to injured muscles and joints, reducing swelling and inflammation.
INCREASES RANGE OF MOTION
For those suffering from limited mobility, stretching in warm water can help make muscles more pliable, greatly improving flexibility and overall mobility.
IMPROVES SLEEP
If you can't remember the last time you got a restful night's sleep, soaking in a hot tub may help you get some Zs. The heat from the hot tub elevates your body temperature; once you exit, your body temperature gradually decreases, signaling to your body that it's time for sleep.
GET THE MOST OUT OF YOUR HOT TUB
In order to fully reap the above benefits, it is recommended you use your hot tub regularly. As a rule of thumb, aim to soak for an average of 30 minutes several times a week, depending on your age, health, preference, water temperature, climate, etc.
Whether you already have a hot tub or are ready to purchase one, count on Excel Electrical Technologies for the expert wiring services that will ensure day after day safe enjoyment.  From new installations and routine safety inspections to complete exterior lighting, Excel is your complete pool and hot tub electrical service resource. Contact us today to learn more or to schedule service.